BBC History
Ages of English Timeline
BBC History hosts a flash applet presenting The Ages of English – A History of the Language in 10 Acts in sound and picture. ...
Museum of London
Medieval London, AD 410-1558

This informative flash applet hosted by the Museum of London presents the striking events of Medieval London in an interactive timeline. ...
Studying the History of English
(Raymond Hickey)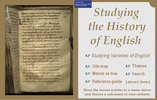 This website offers thematically structured information on the history of English.
...